#B2BMX 2022: Connection, Collaboration & Content Drive Marketing Success
Date: March 22, 2022
Written by:
Karen Axelton, Contributing Writer
The excitement about connecting in person at the 2022 B2B Marketing Exchange was palpable: For many, it was the first non-virtual conference they'd attended since #B2BMX 2020.
The past two years have brought new challenges — and opportunities — for marketers, and #B2BMX 2022 provided a wealth of speakers and sessions to help them make sense of it all. The five tracks included ABM In Action Live, Content2Conversion, Demand Gen Summit, Sales Impact Summit and Go-To-Market Strategy. Here are some highlights from Day One of the event.
New Customer Challenges Call For Better Content
B2B buying has shifted as buyers work from home in a pandemic world. Instead of reaching out to sales, B2B buyers are educating themselves, often researching anonymously. Combined with the rise in complex buying committees, this trend means key signals may be hidden from traditional martech, said Jon Miller of Demandbase in his talk, "Unspam Your Brand."
Unsure what's really happening with accounts, too many marketers resort to spam, which Miller defined as any unhelpful or ill-mannered interaction. Indeed, 2021 saw a 40% increase in marketing messages, said Jay Baer of Convince and Convert in his keynote, "The 3 Drawbridges: How to Cross the Moat of B2B Buyers' Attention."
Overloaded customers are "digging a moat" to protect their attention — unsubscribing, deleting and ignoring your messages, Baer said. To be invited inside the castle, you've got to be "radically relevant." Instead of making more content, make better content by delivering the right message, using the right messenger, in the right modality.
The right message: Too often, the message is broad and general, Baer said. "The word customers contains the word custom; yet, we often treat them all the same. Specificity makes your content effective."
The right messenger: Since information from customers and peers is more credible than that from a brand, Baer also advised creating content from customers, not just for customers.
The right modality: Be sure to provide content in plenty of modalities — including video, which younger buyers love — so customers can educate themselves in the format they prefer.
Speakers throughout Day One agreed on the need for a robust content hub, categorized by demographic, funnel stage, product, format, pain point and much more. However, this plethora of content shouldn't be served as a buffet, but delivered in a carefully considered cadence, Baer warned. "Providing too many options isn't helpful. Instead, give them the next best piece of content."
If creating all that content sounds difficult, Amisha Gandhi of Tipalti offered some ideas to make it easier: "Fifty-one percent of marketers say updating old content is the most effective tactic they've implemented. Keep adding to your content, refresh it, cut it up, repurpose it," Gandhi advised in her keynote presentation, "Creating a Connected Customer Journey to Deliver an Experience That Converts."
Creating more content can be as easy as reworking existing assets to be more industry-specific, or simply adding industry-specific images, noted Jen Leaver of Bazaarvoice in her talk, "ABM to ABX: The Playbook to Launch a Successful ABX Program and Become a Strategic Partner for Your Organization." 
Leaving your content ungated may seem counterintuitive — but it is a way to educate buyers who are reluctant to fill out a form and get bombarded with emails and calls, Gandhi said. She shared a success story from SAP: An ungated interactive asset featuring 32 influencers that could be shared in whole or in pieces. Influencers promoted the asset, which spawned videos, webinars and a podcast; was used for more than two years; and generated 21M+ impressions, 4X the engagement and 3X the leads of other assets.  
Sales Enablement & Beyond
Successful organizations do more than enable sales, contended Barry Vasudevan of Forrester in "Winning Buyers By Cultivating Knowledge Across Customer-Facing Roles." Forrester data shows 98% of organizations that exceed goals enable all their key buyer- and customer-facing roles, Vasudevan said.
To determine who to enable first, he advised, marketers should prioritize those audience-facing roles that support important buyers and have a strong impact. For those roles that are often perceived negatively, organizations can help identify their knowledge gaps and create content to fill those gaps.
Marketers typically think of mapping content to the customer journey. But thinking in terms of sales stages, as salespeople do, can support sales enablement by mapping content in a way sales teams understand, said Pam Didner of Relentless Pursuit in "How to Make the Most of Marketing Content for Sales."
Didner believes tech tools, such as a content management library, are essential, but the human touch of marketers to classify assets is equally vital to helping sales find the content they need. "Address sales outreach like movie sequels," advised Didner. "Think in terms of steps sales will take, and proactively provide the content they need at each step."
From ABM To ABX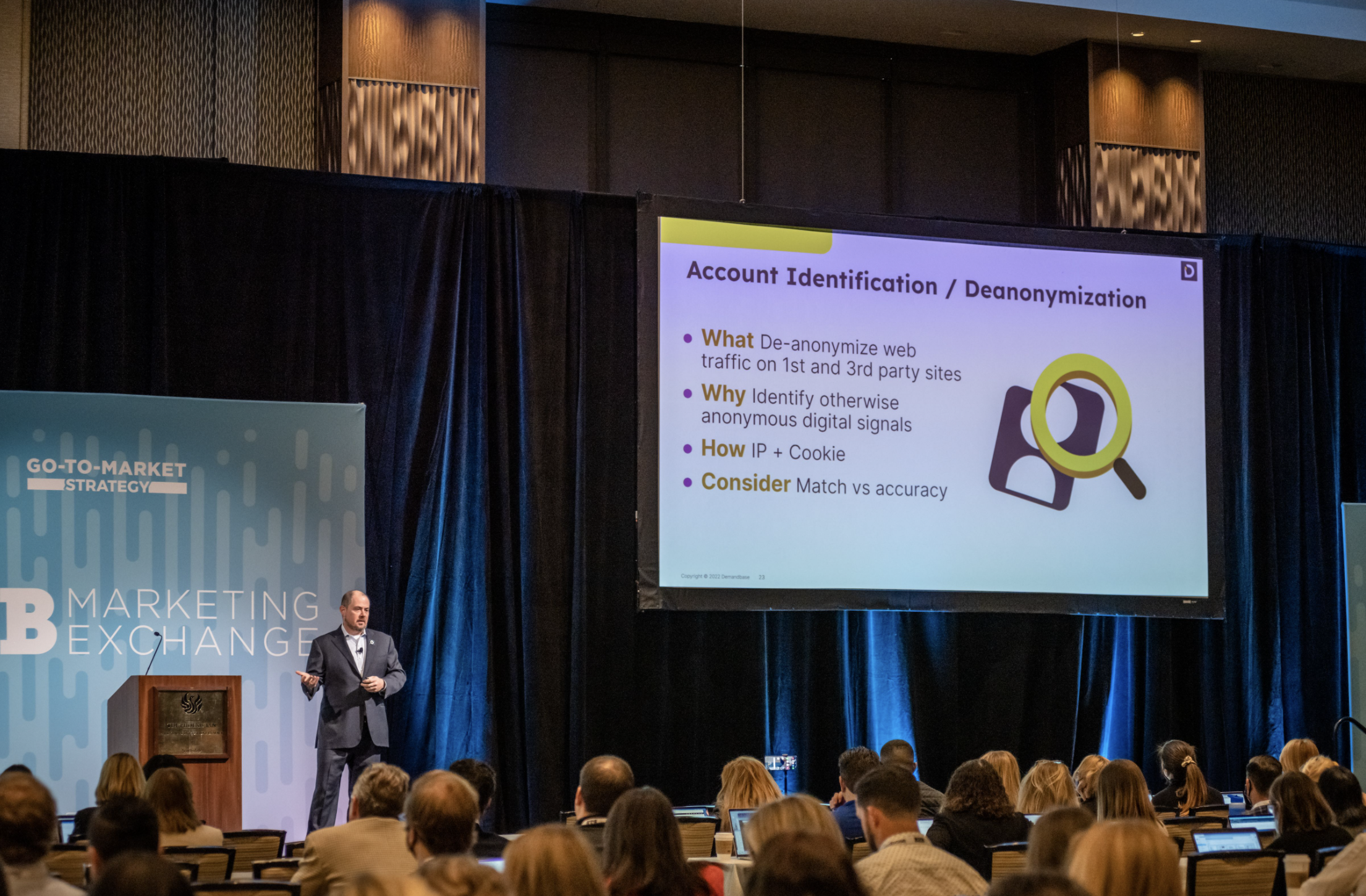 Gathering and using account intelligence is key to overcoming "account blindness," said Miller of Demandbase. To create an account-based experience, Miller advised gauging an account's fit with your ICP, its intent or interest in your and your competitors' products, your relationship and history with the account and its engagement with your content.
Marry fit and profile data about department and job titles with activity data, such as intent, to better customize messaging, said Alisa Groocock of Agent3 in the panel discussion "Experts Sound Off: Crafting a Successful Multichannel ABM Strategy."
"It's easy to get data but knowing more specific things about the team and the personas makes it more meaningful," Groocock explained, adding that bringing marketing operations into your ABM team from the start helps optimize value from your data.
As for who to target, fellow panelist Angel Oberoi of Gigamon agreed with Groocock that the most important person in a deal is your champion — who probably isn't at the C-level. "Don't ignore the C-level — keep them engaged — but focus deep and heavy on the champion," advised Oberoi.
The Power Of Collaboration
Now more than ever, successful B2B marketers recognize the importance of teamwork.
"Large companies have a lot of teams," said Gandhi. "[Those teams] need to cross-collaborate to make campaigns happen. Think about the experiences you can deliver together."
Today's marketing and sales processes have more moving parts and more players than ever before. "Sales and marketing today is less like a baton handoff of MQLs and more like a soccer team," noted Miller. To succeed, you must align data, share insights and coordinate actions.
For marketing to truly become the strategic partner for sales, said Leaver at Bazaarvoice, "find your sales champions and let sales sell to sales. Make sure they know they have a seat at the table. Get their insights. Their feedback is as important as marketing metrics. ABM or ABX can't work unless we do it together."
This content was originally published here.
---