Guide to Measuring Hotel Marketing Success: Where SEO Performance Meets STR
Date: March 3, 2022
For most hoteliers, every Wednesday is STR Report Day and for them, that day is like Christmas morning–only that it comes 52 times, while Santa comes just once a year. That is the day that everyone learns whether they were "naughty or nice" that week. Did they deploy the right type of pricing strategy? Manage the right channels? Sold the right groups at the right rate? Took in the right amount of corporate business? Were they correct in their decision to turn away that staffing crew? Did they win the week and out-perform their competitors in their market? It is their chance to peek into the stockings of the hotel across the street, or around the corner to see if they got something more or did something better.
The Smith Travel Research (STR) Report is arguably the single most important source of business analytics utilized by all decision makers in the hospitality industry. Much attention is paid to this report and the impact it has on the operations of a hotel; often to the detriment of other business analytics. If one were to ask any general manager or director of sales at a hotel their RevPAR index for last week, most could readily quote it out in response. However, if you were to ask them the channel contribution mix that impacted that ADR Index or the conversion rate which impacted their occupancy index, they would have no idea.
Despite the flood of data that is becoming available to hoteliers and hotel operators, the familiarity and clarity of each metric's value and understanding how to positively impact the results is low. Most have decided to focus on one source of performance authority. Understandably, the STR report has been that source. It is the great market equalizer and a valuable tool. However, like most tools, its ability to accomplish all tasks is limited. Those who can bridge the gaps between tools are often the most successful.
Taking the First Step to SEO RockSTRdom
Hotel teams that want to achieve their weekly STR goals need to understand how their SEO analytics are signs of whether they are on the right track or if there is more that can be done to achieve "rockSTR" status.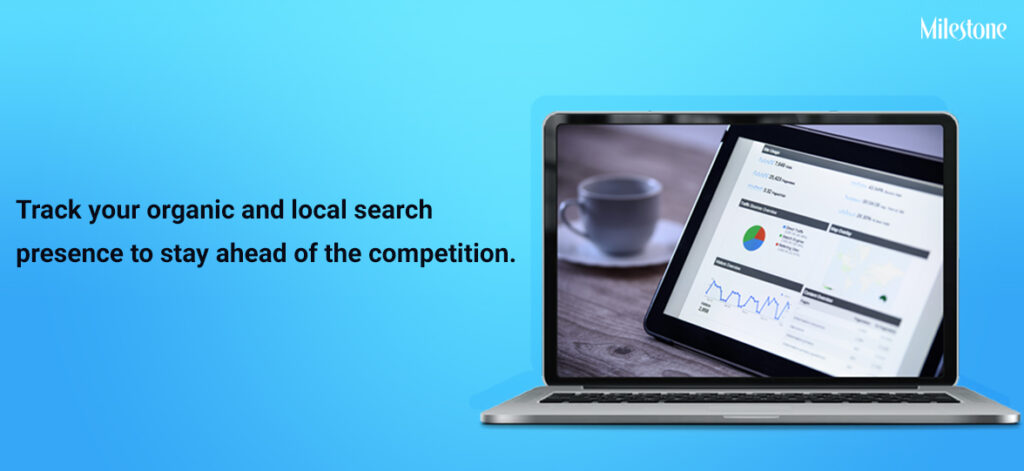 The collaboration of reviewing STR Analytics and Google Analytics are ways in which a property will be able to achieve greater profitability. For example, take demand. In the STR Report, hoteliers are provided the change in demand (which is defined in this case as the number of hotel rooms sold) for the previous week. By comparison, the comparable metric for digital marketers is Google Trends, which measures the change in interest of a search term over time.
One metric shows how many are looking to buy, while the other shows how many actually bought. One can see that these each have two pieces of the same puzzle, but when viewed separately can almost tell totally different stories. For example, the online interest levels for most travel-related key terms are returning to pre-covid levels. This would give the impression recovery is well on its way. Now, contrast that to the metric that shows continually low occupancy rates for most global markets, the story becomes that most travelers are still in the "dreaming" or "window shopping" phase, not making a purchase, and the industry still is struggling.
Occupancy Index – Feed the Funnel to Get Heads in Beds
When reviewing STR performance, the measurement of occupancy is directly related to the number of rooms a hotel sold. Therefore, to positively impact occupancy, hotels need to sell more rooms. This means be visible to more customers with potential to purchase, which from an online perspective correlates to top of funnel strategies. By increasing the number of customers at the top of the funnel, a hotel can increase the occupancy percentage on property.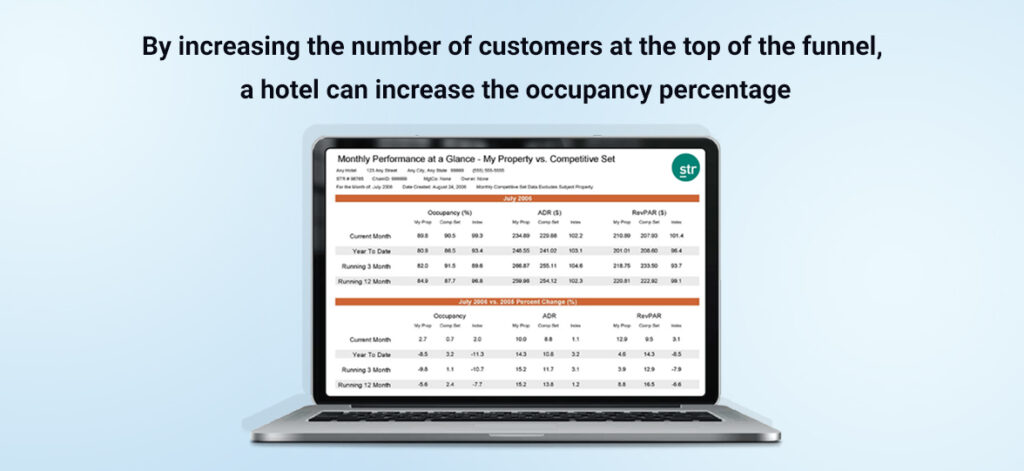 Strategy Translation – you want to increase your occupancy, focus on awareness driven, and top of funnel strategies. When reviewing online performance metrics, this manifests in the form of impressions in search results, visits to the website, and share of voice in paid media campaigns.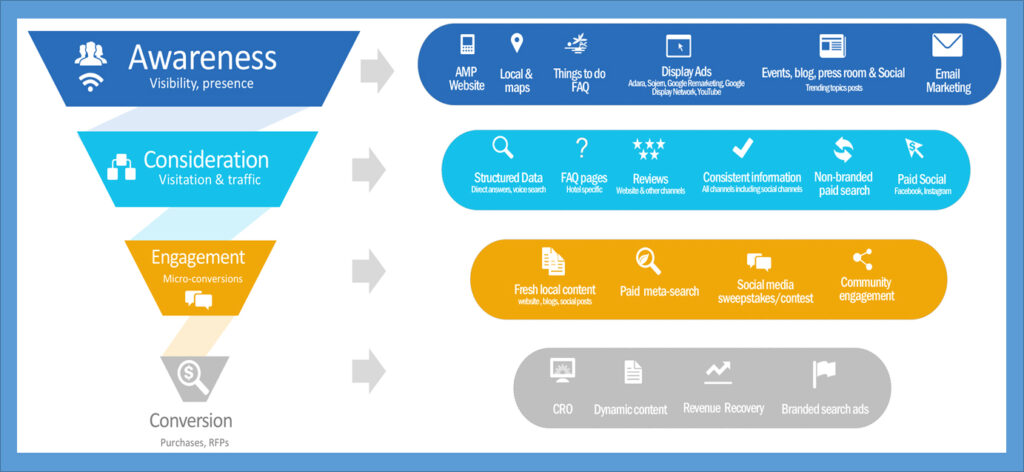 There are a number of strategies that Milestone recommends in order to increase awareness and drive that top of funnel growth. The first is making sure the website is technically optimized to its fullest. Page speed, error free advanced schema mark up, AMP Pages, FAQs and event calendar are some examples of updates that will make drive impressions up. In most cases, as soon as these strategies are deployed, there is an immediate lift in impressions and site visits. The ongoing focus thereafter tis finetuning these updates to ensure the focus is on the right audience the hotel is ultimately looking to attract.  With regards to paid search, top of funnel search is increased though non-branded search campaign strategies, display marketing campaigns and social media boosts.
Top of funnel strategies are often the most common strategies. They are what everyone has in their tool kit to deploy. As these strategies are intended to hit wide audiences, there comes the downside of reduced potential to convert. These campaigns tend to be some of the least profitable. They typically do not directly correlate to complete final bookings. As a reminder, though,  by their nature, that is not their purpose. Once you get into the customer journey of the larger audience, you will have greater potential to capture more of a share of the occupancy potential in the market than the competitors. Non-branded paid search campaigns will drive up your impression share, will increase visits to the website and drive more revenue. At the same time, because these campaigns can be deployed by all, the competition is high. The increased cost for those keywords, the increased volume of those non-branded clicks, and loss of customers not ready to purchase will lead to a decrease in the return on investment of campaigns. On the upside, these campaigns do have potential to displace OTA rooms, which could potentially save on monthly commission expense. When you combine the increase in one line item, and decrease in the other, the net ROAS result is more palatable.
As occupancy driving campaigns are more about getting customers into the hotel, to get the desired increase in your OPI, expect and plan on a decrease in your ROI.
ADR Index – Perception Plus Conversion Gets those Winning Rates
The ADR Index is an indicator of how well you were able to convince the customer that you were worth the money they should spend. These days, that it is very powerful message, and very difficult to convey since there are so many competitors available throwing all kinds of discounts, offers, and enticements trying to steal your guest. Therefore, to positively impact the Average Daily Rate metric, hotels need to sell rooms at higher rates than the competitors. From an online perspective, this correlates to bottom-of-funnel strategies. By optimizing the channel distribution of direct bookings, OTA bookings, and capturing groups, a hotel will be able to build a base on which to decrease discounts, convert rack rate rooms, and drive rate.
When reviewing online performance metrics, this manifests in the form of bounce rate, conversion rate, click through metrics, bookings and increased channel contribution.
The first measure to review when considering a rate-driving strategy is does your website adequately reflect the rate you are selling? It all starts with making the right impression. Just as the soft goods and furnishings need to be refreshed every few years, so does the website experience. Just like the carpets in the hallways, over time, with the changes of aesthetic trends, and improvements in innovation, it is very easy for a product to become antiquated, out of date, out of touch, and less desirable. Imagery that was high quality when taken 3 years ago, looks less impressive than high resolution images taken today. Today's images will look less impressive after a while. So goes the life cycle of technology.
Take a look at your website and compare it to others in the market and others in other markets. How does it compare? Does it accurately convey the quality of the experience you are selling? Or are you out of date and worn? Imagine the thought process of a customer who has been comparing 9 hotels in the market, all at the same rate as you. They have been reading the reviews of the competitors and you. Does your website reinforce the impression of you they came to your site with? Does your site convey to them that the price they are going to pay will be a value? When it comes to driving rate, it all starts with where it hopefully will eventually end– the website experience. As all other methods are going to be bringing people to this destination, it is best that you make the strongest impression on your website.  
From an analytics perspective, does your website have a high bounce rate, meaning a high number (  over 30%) of visitors leave your site without taking any action or viewing any page. Clearly the website did not make a good first impression.  Do 20% of more of your customers click from your website to check the rate to make a purchase? If not, they do not think that no matter what the rate is, they will not want to stay with you.
After you are certain you are making the strongest impression and making the best case to every customer, the next step is to focus your attention on every customer who is not as sure as you are. Cart abandonment tools, OTA rate displaying widgets, and Book Direct messaging on your website are ways you can try to convince those customers that it is not in their best interest to leave the site without booking direct through the site. Site promotional banners and limited-time offer "flash" sales, are ways to showcase the deals and offers you wish to sell.
Since it is so much about making the right impression, also make sure you are paying attention to your online reputation and responding to reviews where you can. Responding to reviews on your Google My Business listing will increase the likelihood that people will click to your website from your listing or even go straight to trying to book through Google Hotel Finder. Responding to reviews on TripAdvisor will increase the likelihood of people booking their stay with you. Demonstrating that the service of the hotel extends beyond its walls will aid in building that impression and making customers feel that the quality of the stay will match the rate offered. This will aide in capturing the bookings at the rate you are asking.
From a paid media perspective, brand keyword campaigns will aide in keeping the third-party players from stealing that sale and costing you a commission. Make sure you are selling in Google Hotel Finder, for as Google is your home page, your GMB is your first wave booking engine. Don't let the OTAs steal your bookings and push that net rate down. Investing in retargeting campaigns, those campaigns that follow people who have visited your site and encourages them to come back and book will keep you top of mind and hopefully prevent them from booking that weekend stay with you a month from now with a third party. These campaign types do tend to have stronger returns for owners as they are more conversion focused. Again, when you combine revenue generated with commission decreases, the profitability metrics improve.
Finally, there is no better way to drive ADR performance than by building rate on group base. Review your group content, whether for meetings, weddings, conferences or social events. Does the content provide answers to all the questions today's tech-savvy planners need, or are you still relying on the site inspection to close the sale? FAQS and our AI chat features turn your website from a 24 hour piece of sales collaterol into a 24 hour sales manager. A valuable resource, especially in these times of reduced sales forces.
Are you hoping to capture more sports group business, or ethnic weddings, or quinceaneras? If you do not have any content on your website about these types of groups, how do you expect to attract and resonate with consumers look to place their group? So when it comes to attracting new customer segments, remember the old adage adage…. If you write it, they will come.
Summary – As strategies focused on pushing rate are more about getting customers to buy, to get the desired increase in your API, pull out the stops to beat the TPIs.
RevPAR Index – Win the Game of Inches                          
When all is working as it should, the true call of victory comes when the RPI is up and you are stealing share from the comp set. If you are adjusting your top of funnel strategies to get occupancy, or tweaking bottom of funnel to drive rate, when they are working RPI looks great. When not, .. see relevant section above. Hotel managers all know that despite their gains and wins, there is always going to be a push from ownership that says can get get .5% or 1% more.  Here are some areas that you can look at to try to inch out some more of those small victories.
It is not uncommon for hotels to shy away from developing package offers to sell. In their experience, it is often the case that "packages don't sell". It is also the case though that most don't check to gauge the interest in packages to see that, for a majority of hotels, the top 5 most-viewed pages list almost always includes the special offers page. People are always looking to see if they can get the most of their purchase. Many are looking for savings, while others are looking for convenience and experience. Packages that are thoughtfully built to include added-value amenities are great ways to build both occupancy and ADR.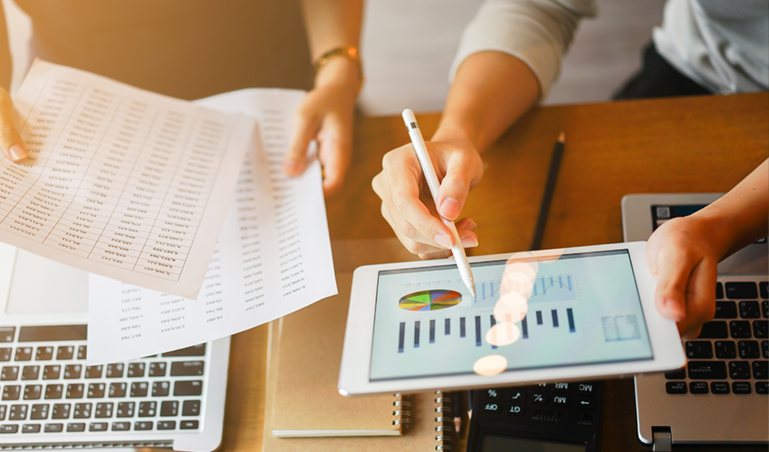 There are a number of reasons why packages "do not sell". First, they are often not overly creative. The most common packages offered by many full-service hotels are a bed and breakfast package, and a romance package. That romance package is almost always Room + Champagne or Room + Sparkling Wine + Chocolate Covered Strawberries. Or some slight variation thereof. Properties that have theme offers with some unique differentiating element to it, often perform better. Secondly, packages often may be priced so the package does not seem to deliver value. The bed and breakfast package that is rate + $40 for two people to have breakfast (because that is what breakfast for two in the restaurant sells for), is convenient but not valuable. For the same price, can the customer walk out the door, and cross  the street to the local café and have breakfast for less? When you look at those two examples, it may not be that packages don't sell. It is your package is not desirable. In the first case, with Romance package, the customer decided to book the room by itself and bring their own bottle of champagne and talk to the concierge about making a reservation at the great romantic corner Bistro. So you got the booking at BAR, but missed capturing more share of wallet. In the case of the Bed and Breakfast, since the customer didn't know about the premium price until they got to the booking engine and saw the price, they became disgruntled and left the purchase path altogether and booked at the lower tier property across the sheet that included free breakfast. In both of these cases, the website conveyed what it was supposed to but could have been even more effective in capturing more rate+ bookings with some thoughtful offer tweaking.
To capture more rate+ bookings, review your offers to ascertain if they are offering a unique experience that merits a premium or a comparable experience at a relevant premium. Remember, added-value packages do not need to be offered to the OTAs. This provides you with a unique selling opportunity to capture more direct bookings, because they can't get that package anywhere but from you. So rather than taking a premium onto a bed and breakfast package or a room and parking package, pricing it so the premium is a value, may lead to that booking being a sub-BAR rate when converted, that rate would still net higher than if that customer booked the stay through a third party. Thus inching up that RevPAR metric.
When you want to test the value of special-offer pricing and to capture more direct bookings, PWA and email strategies are ways to build your audiences to reach out to and sell. These are customers who said they want to receive messages about deals and offers from you. These campaigns often have the highest ROI because the customer is often your most engaged. Even if they do not reserve the package, clients often see a spike in visits to the website and revenue overall. Emails and push notifications are reminders that they want to come back to you, and you are giving them a reason to come back.
Finally, these types of offers are great to build paid campaigns. By comparison, the number of people shopping for "Las Vegas Hotels" is much higher than "Las Vegas Hotel Honeymoon Packages" however these are higher qualified shoppers with definite shopping intent. Carving out a little of your paid campaigns to promote special packages, and length of stay offers are ways you manage the balance of top of funnel non branded search with bottom of funnel conversion campaigns.
Summary
Just as revenue management is about getting the right room at the right rate at the right time, from a digital perspective that is about getting the right rate in front of the right audience to convert them via the right channel.
In order to reach your STR goals you need to be little more fluent in SEO. At the same time your SEO partner needs to know what levers to move to help you reach those goals. While it may seem there is a divide between the language of STR and the language of SEO, in reality they are just dialects of the same revenue language.
Contact us to learn more at sales@milestoneinternet.com.
This content was originally published here.
---