Ross burns midnight oil to gain marketing success :: Lanes Group plc
Date: December 31, 2021
Ross burns midnight oil to gain marketing success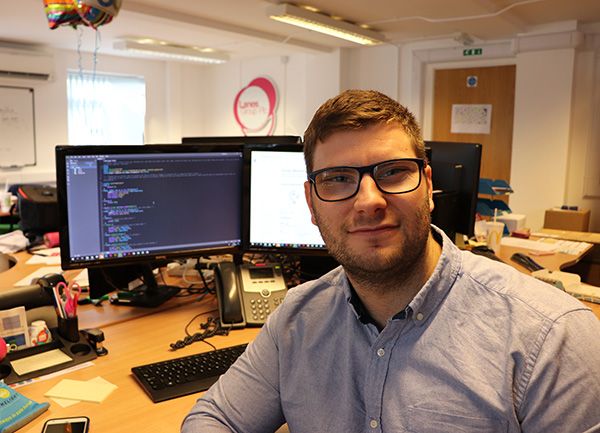 Digital marketing executive Ross Gylanders is wondering what to do with all his spare time after achieving a professional marketing qualification thanks to a year of hard study.
Lanes Group plc paid for Ross to study for a Chartered Institute of Marketing (CIM) Certificate in Professional Marketing, which he passed with flying colours.
But it was not easy! "I had to put in a lot of study hours. It was harder than my degree," says Ross, who works in the Lanes marketing team at the HQ offices in Eccles, Greater Manchester.
"There was an exam to pass and two large assignments to research and write, so I was often up past midnight, and studied pretty much all-day Sunday. But it was worth it. I learned a lot."
Ross's hard work meant he achieved a Merit in his studies and is now putting into practice new ideas and insights.
Michelle Ringland, Head of Marketing at Lanes Group, says: "Ross is a very enthusiastic member of our team, and it made sense to support him with his continued professional development.
"It benefits him in enriching his career, and it certainly benefits us as a company, as we will gain from a lot of fresh ideas and skills learned through long hours of study."
Digital marketing, in particular, is a fast-paced facet of business development that Lanes is determined to use to connect with customers who need its high-quality specialist drainage and utility services.
Ross says: "Online marketing is increasingly vital to Lanes to engage with customers and stakeholders. There is never a dull moment in the marketing team, and I work with a lot of great people across the company, and with customers."
With four divisions, a sister company, UKDN Waterflow (LG), in the UK, and another, AQS Environmental Solutions, adding up to more than 40 operational sites – Ross and his marketing colleagues are certainly kept busy.
He says: "Ideas I've gained from my CIM studies have already been enthusiastically received by colleagues. It's fantastic that Lanes has supported me and values my contribution."
This content was originally published here.
---